Examination of Underground Water Flow
An experiment in using multimedia and the internet as a content delivery system.
Copyright 1998 by James P. Riser
Click here to go to James P. Riser's home pages.
Background info:
Several years ago I began experimenting with utilizing animations as a source of content in my science classes. Two of these experimental animations are on underground water movement.
The goals of this experiment were to:
create a better way than texts to demonstrate scientific phenomena
create a limited interactive educational product
create individual one or two concept animations
create self contained material (demonstration, ability for user to repeat/move on, and analysis questions)
create examples for further development using this concept
create a product which might be effective in spite of the instructor
I have posted this web page so that others might give this idea a try in their classes. After trying these with your students, please email any feedback to me - James P. Riser.
File info:
The wells.sit file is a Stuffit (Macintosh) document which contains two short animations on ground water movement. The animation program used to create this file was PROmotion. This file may not run on your computer. For PC users: Corel version 5 (old) had a Movie component which was virtually identical to PROmotion (Mac).
The first animation illustrates:
ground water movement
cones of depression
landfill pollution
clean and polluted wells
A sample frame from this animation is shown below (note: clicking on the button in this sample will do nothing):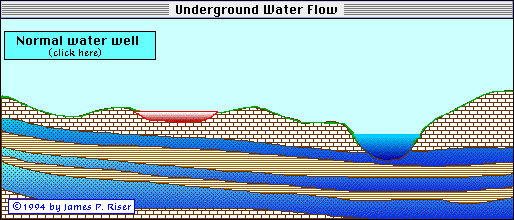 The second animation illustrates:
ground water movement
artesian well principal
recharge
A sample frame from this animation is shown below: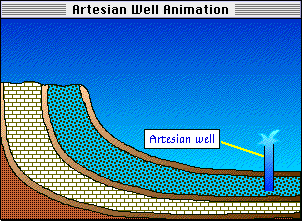 Note: These two animations require at least 3 MEG of free RAM and are stand alone Macintosh applications. Please contact me if you would like copies of these animations.
---