Used Items Offered For Sale
This web page will be updated every now and then as I thin out my magic collection.
If you see something you want, please email me to make certain that it is still available. Everything will be payable by PayPal to jriser@jamesriser.com
USA shipping only. No foreign orders. Shipping will be extra.
---
Leg Spiker - $125 + $25 USA shipping
This is an old Abbott item and needs a new paint job.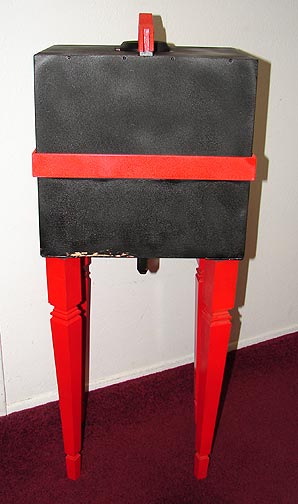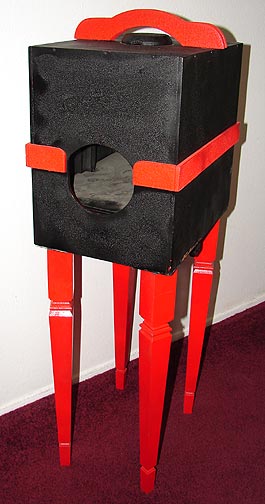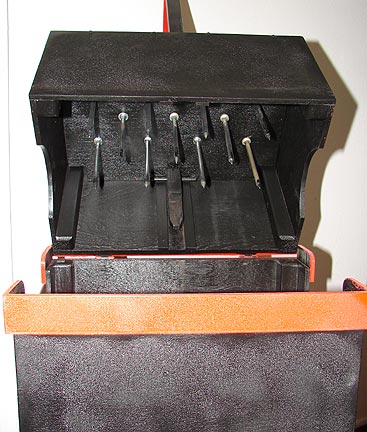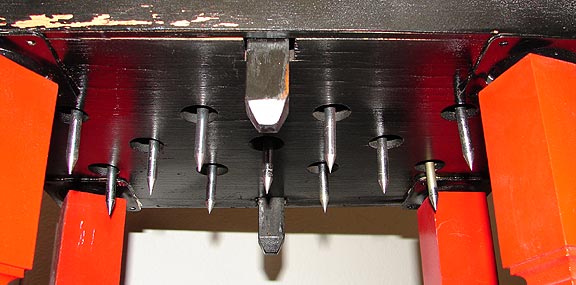 ---
A Version of Reincarnation $200 + shipping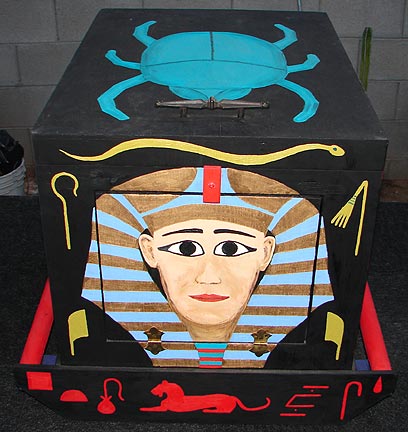 Front and top ...
Front and left side ...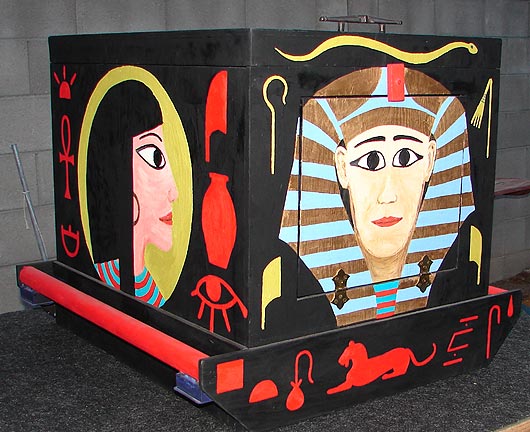 Left side and back ...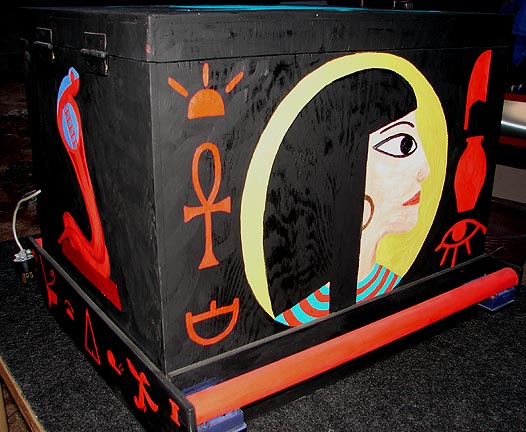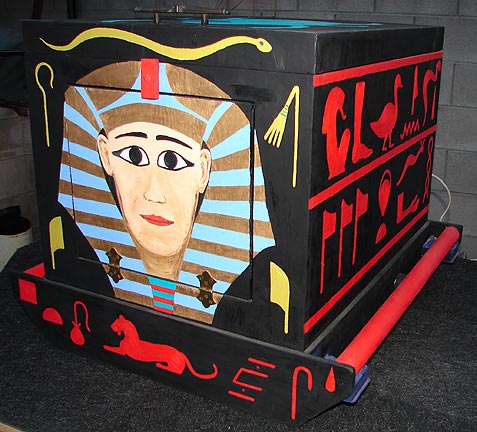 Front and right side ...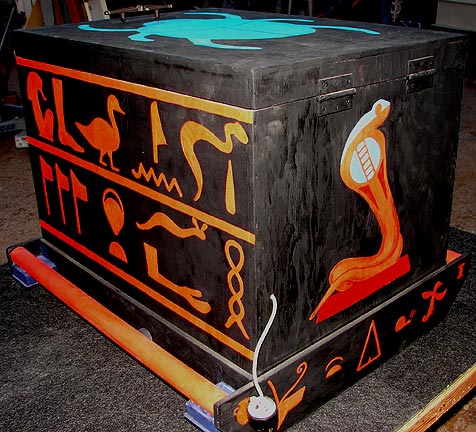 Right side and back ...
Top ...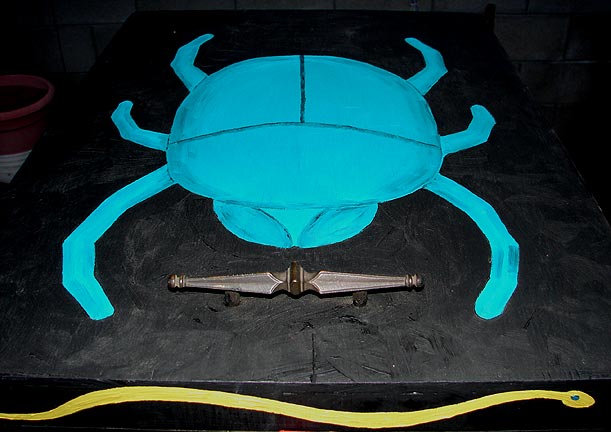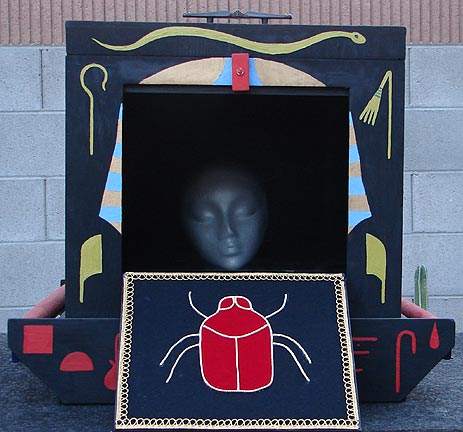 Wig block in place of real head for photo ...
One of available visible changes ...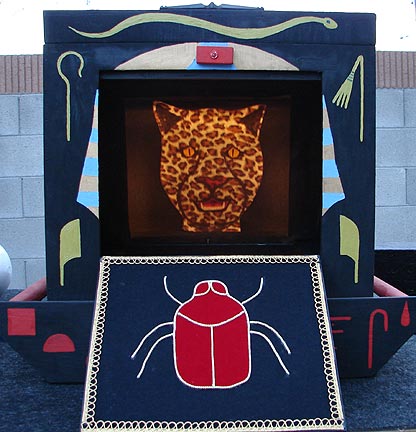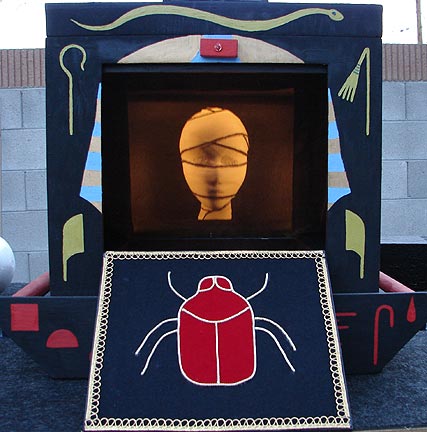 Mummy head change option ...
Another visible change option ...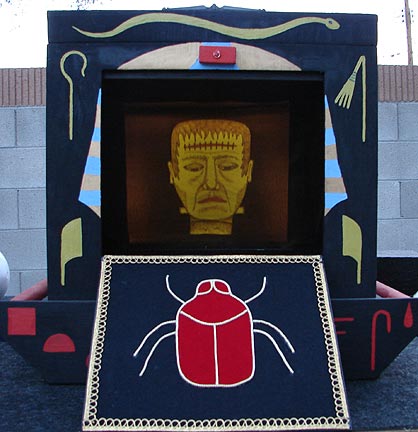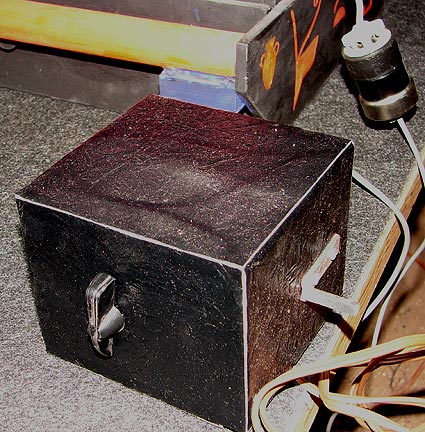 The custom controller (needs new wire in)
---
Tom Frank Heavy Copper Cups (seconds)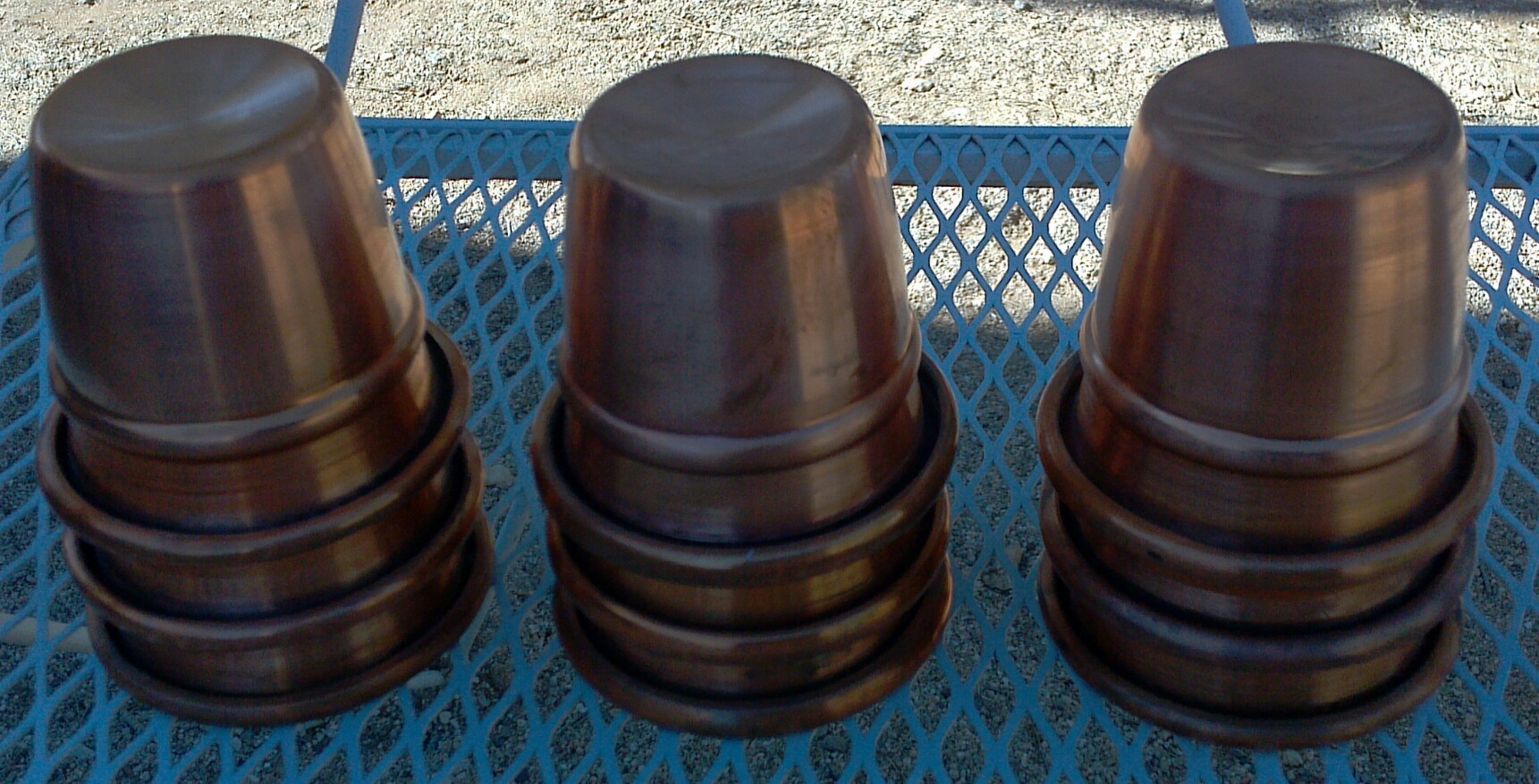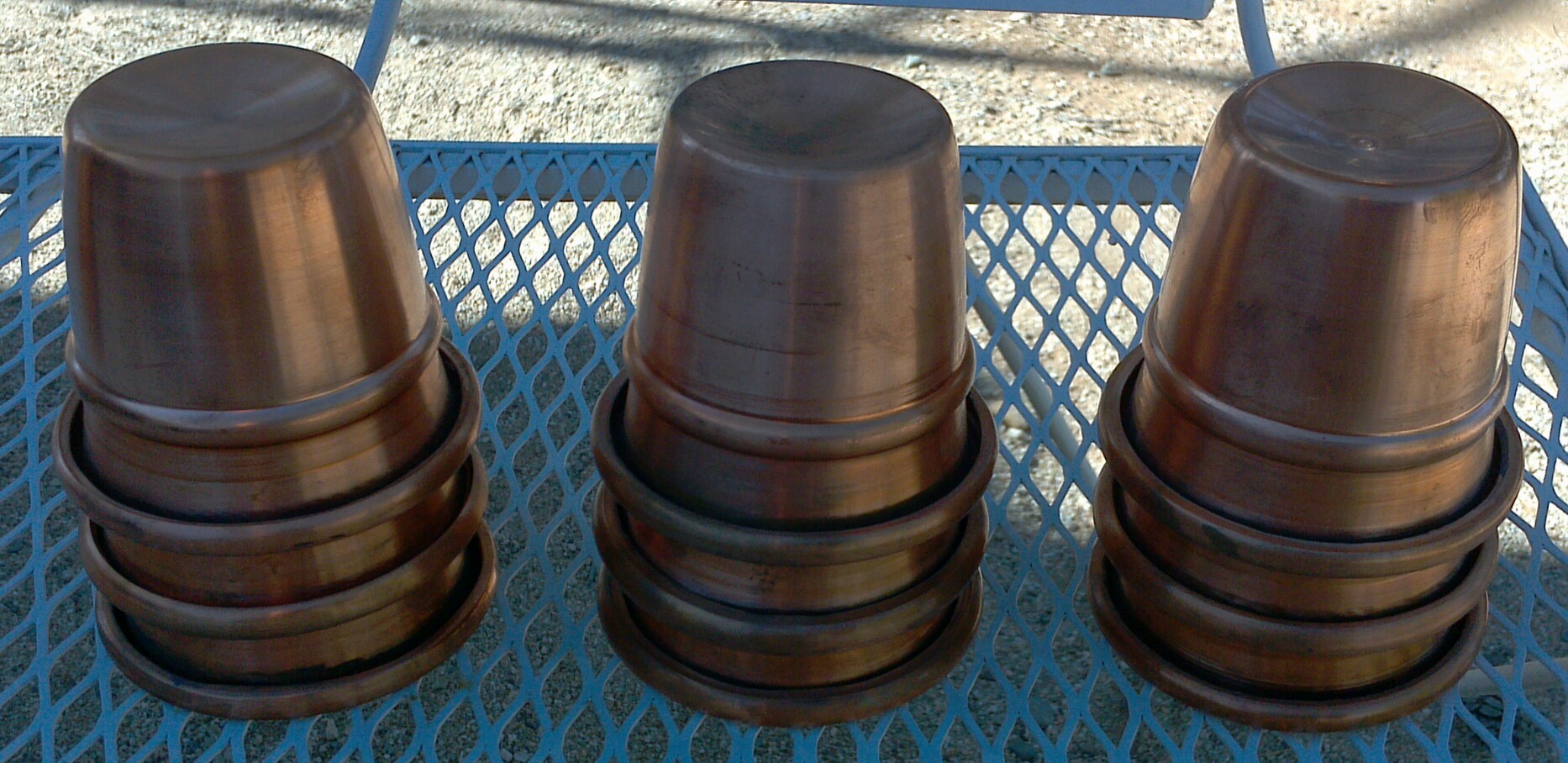 I forgot that I had these tucked away. I have several sets of these heavy cups. They are all great for street work. These were "seconds" with not too neatly trimmed metal before mouth bead was rolled. These cups have never been polished. This is all I have. When they are gone, that's it. That mouth bead inconsistency will only affect close-up work ... $105 per set
---
Conley Card Sword ... $195 + shipping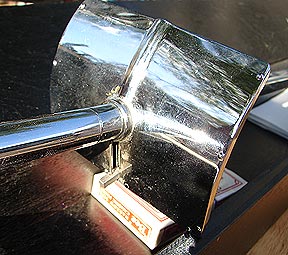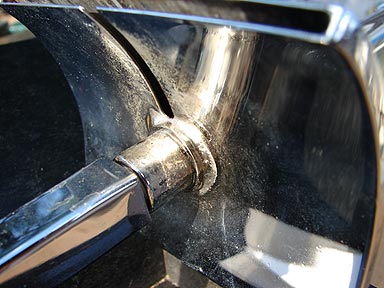 ---
Card Go ... $105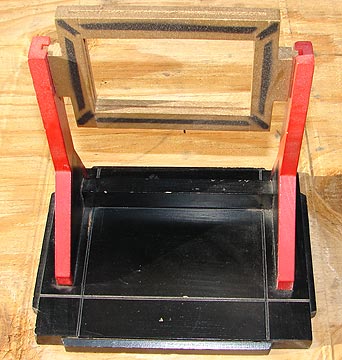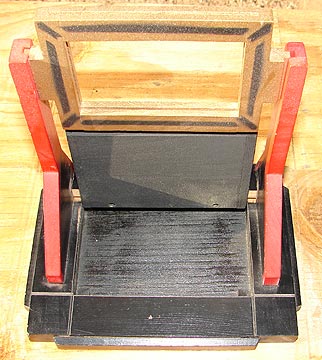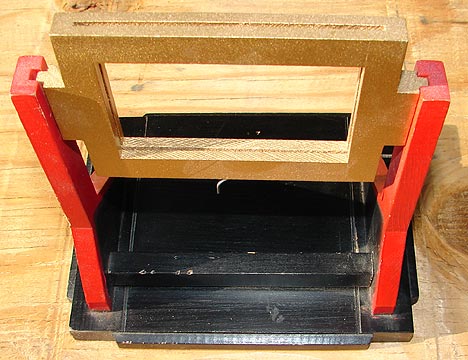 ---
Abbotts' Shooting a Ribbon Thru A Girl (Complete with special rifle, target, and sash) ... (SOLD left up for reference)
The setup is complete. It includes a modified bolt action 22 caliber rifle which fires blanks. The original barrel has been replaced by a larger diameter barrel and ram rod for stuffing the ribbon into the barrel.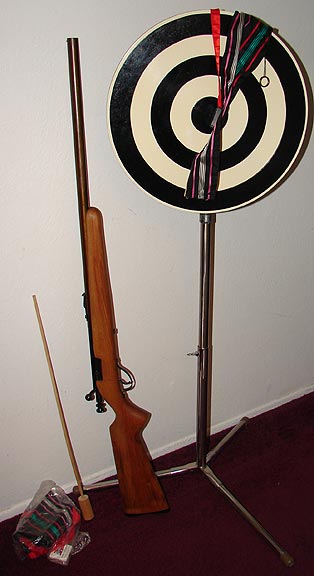 The sash has a spring loaded lid on the front ribbon box and pocket on the rear.
The target is mounted on a folding metal base and does its job perfectly.
My presentation was for gun clubs where I dressed as a red neck hunter type in red plaid jacket and cap with ear mutts. I went through a mock safety talk accidentally shooting a coffee mug off of the table before going into the marksmanship demo. I was to give a demo showing how to shoot the pip from the center of an ace held by my assistant. The ribbon would allow the audience to see the path of the speeding bullet. The ribbon was stuffed into the barrel with the ram rod, blank loaded, aimed, and fired. Big loud bang, girl screamed as she pulled ribbon back and forth through her body. Black out, curtains closed.
Everything works perfectly. This is similar in concept to the P&L version without the very dangerous dart mechanism.
Hopefully this will answer all of the questions about the apparatus. I do not know how many of these Abbott's made but this is the only one I ever ran across.
---
P & L Goldfish Producing Aquarium ... $115
This may never have held any water.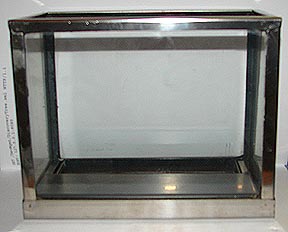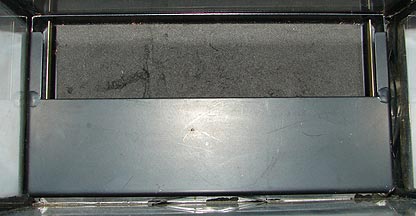 ---
Merv Taylor Combination Fire Bowl and Dove Pan ... $95 + shipping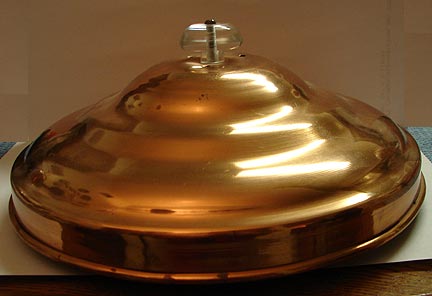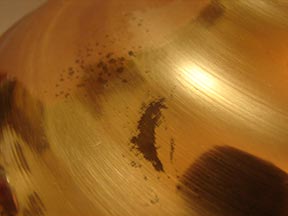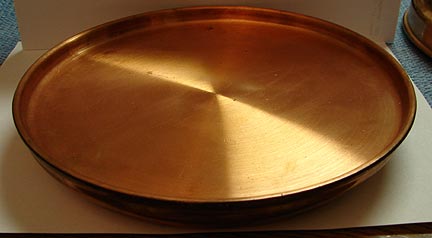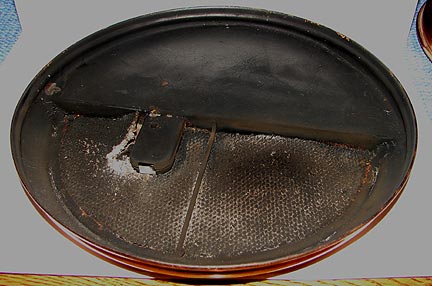 Some oxidation. Metal is undented (heavy copper). Trigger activated.
---
Note: I will consider swaps.
More items soon ...