Below are illustrated several custom made turned wood items as are used by magicians. No explanations are given. Magicians will know what they are seeing. Fellow woodturners will also know what is involved in making such items. Enjoy. This page was formatted for a screen setting of 800 x 600 and may look a little strange on other settings. Many of the items below may be sold already. I have a very difficult time keeping my woodturnings in stock.
Please consider these to be examples of what can be made.
Note: Shipping and handling are in addition to the prices quoted below. Please contact me for availability James P. Riser.
Magic Wands
When time is available, I sometimes make wands for magicians. The woods used varies. $40.00 each when in stock. Email me for current availability. Note: All wands shown here are SOLD.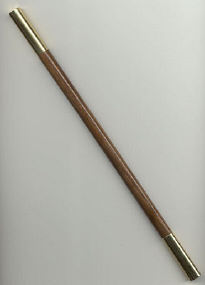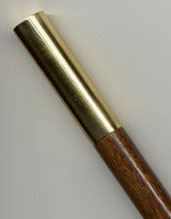 This wand is of 1/2" diameter walnut with solid brass tips - total length is 12 3/8".
(SOLD).
Additional custom wand set for a color change effect (ebony and boxwood):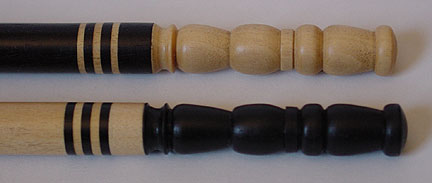 An ebony and inlaid sterling silver custom wand:


The above wands were all custom orders and are sold.
---
Billet Switch Pedestal
This particular model was turned from walnut. (SOLD).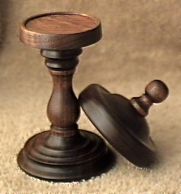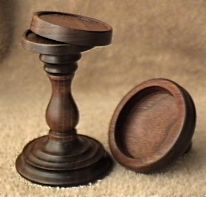 M&M Color Forcing Box
This Chakte kok and ebony box was designed to force a color of M&M. (SOLD).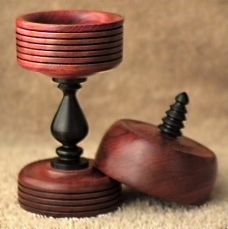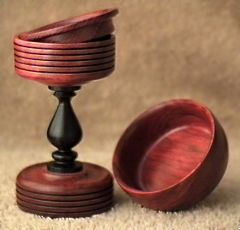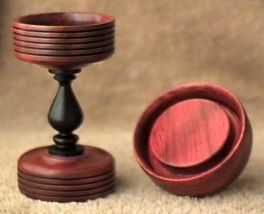 The Remainder of items shown are all variations of the classic Ball and Vase effect.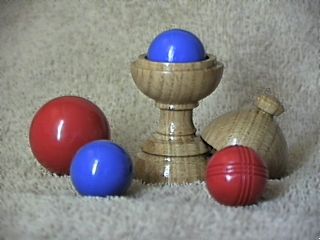 This Oak Ball and Vase was made for the Mike Gallo pure sleight of hand routine. (SOLD)
Note: I do not supply the routine as it is not mine!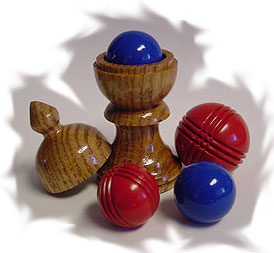 Another custom turned oak ball vase set. (SOLD)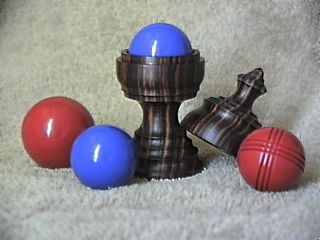 This Cocobolo Ball and Vase was turned from cocobolo wood. (SOLD).

This Chakte kok Ball Vase is another variation for the Gallo routine. (SOLD)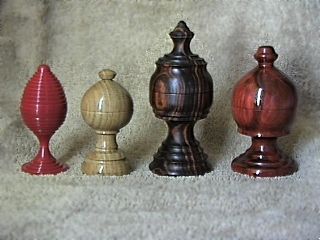 The above three wooden ball vases shown closed along side of the plastic original version for size comparison.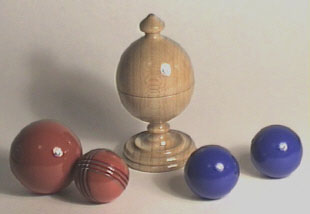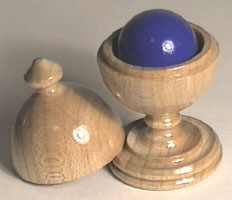 Another ball vase set for the Mike Gallo routine. This ball vase is turned from Maple. (SOLD)
And still another maple ball vase set for both standard and Mike Gallo Routines (SOLD):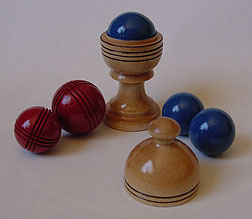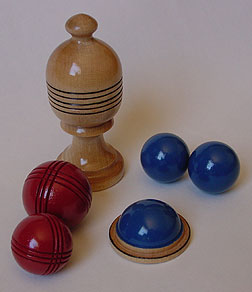 A specially made set for the Mike Gallo routine using wooden balls and mini baseballs (SOLD)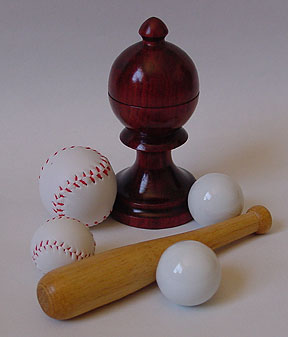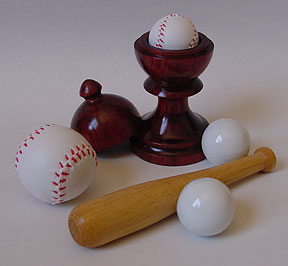 ---
A custom made cocobolo ball vase set made for Doug Gorman...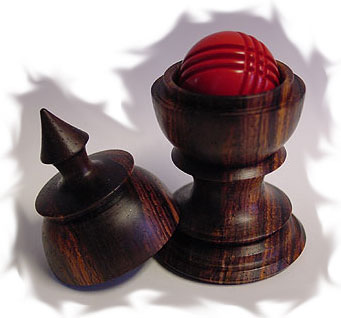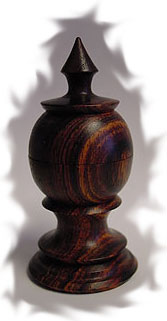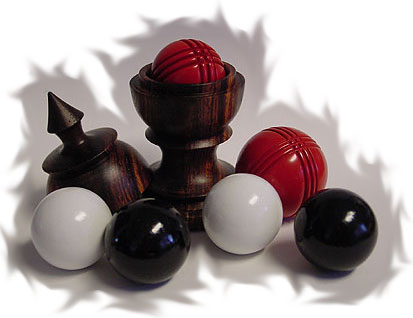 Doug's reaction to his new ball vase:
Your work is beautiful beyond description. The pictures you sent were great, but no picture could do this vase justice. It is flawless. I've already performed the Gallo routine with the vase at the local SAM meeting, and everyone was impressed...with the vase. The performance was OK, too, but the vase stole the show!

I hope you can use this testamonial, because I could not recommend anyone's work more highly than yours, not to mention the treatment I received throughout the ordering, creating, and delivery process. You know how to make world-class props, and you know how to treat people in a world-class way. No matter how much of a pest I might have been in seeking status reports, etc, your e-voice always had a smile in it. Thanks so much.

Magically yours,

Doug Gorman
---
An ebony ball vase set (SOLD)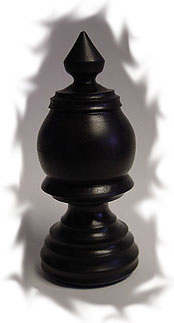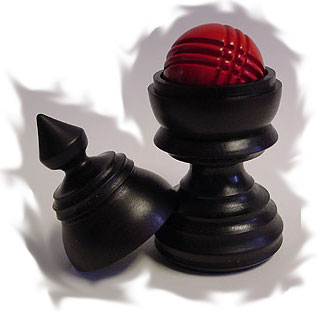 ---
Another Cocobolo Ball Vase (SOLD)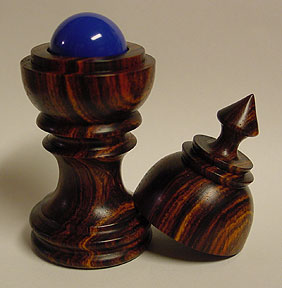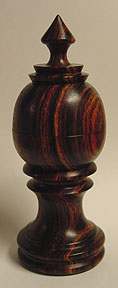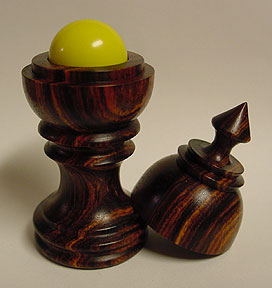 ---

This a Color Changing Ball Vase from Hoffmann's Modern Magic. The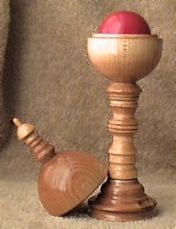 internal workings have been modified/improved. The wood is maple. (SOLD).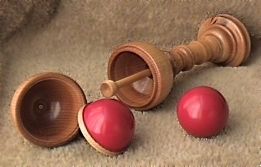 This is Tall Lid Ball Vase.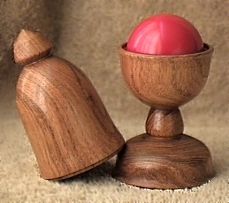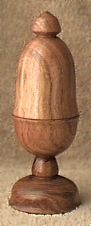 This design comes from Hoffmann's Modern Magic. One only in mesquite wood. (SOLD).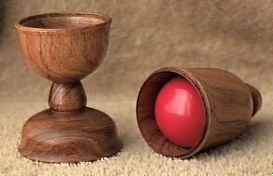 Another Tall Lid type of Ball Vase made in African Olive. (SOLD)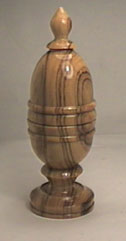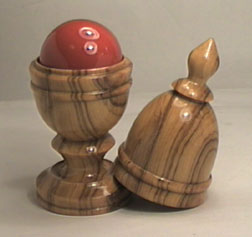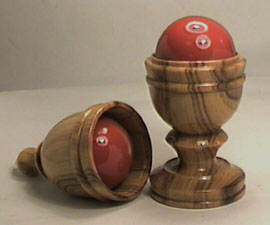 Still another experimental version of the tall lid Ball Vase (very light cherry wood) - (SOLD)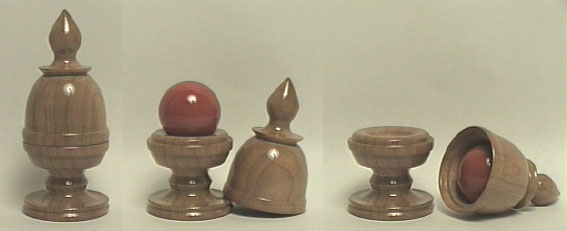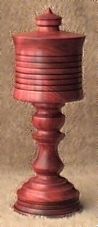 This is a Ball to Rice Vase made of chakte kok.

The matching Rice to Ball Vase will be pictured here when completed. No price yet.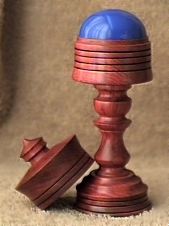 The following is a pair of walnut Morrison Pillboxes designed to be used as a set for a traveling ball effect. (SOLD).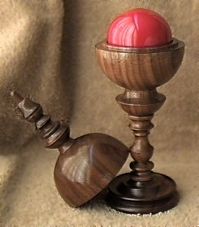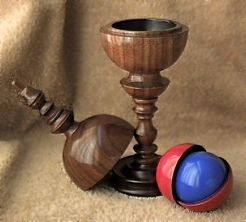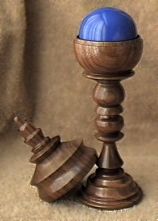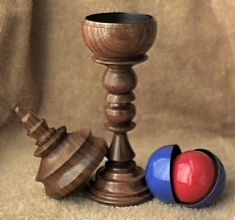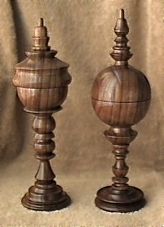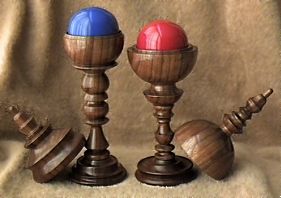 And another Morrison Pillbox turned from maple.....
includes extra precision turned ball of contrasting color plus an extra "color changing ball" (SOLD)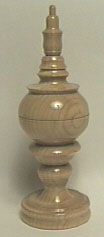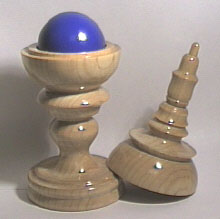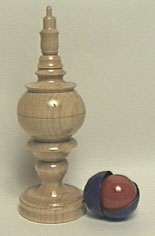 Another turned maple Morrison Pillbox featuring burnt decoration. (SOLD).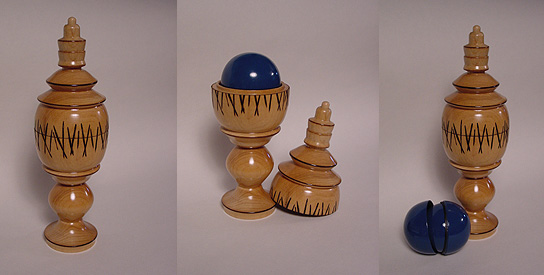 A custom made walnut pillbox. SOLD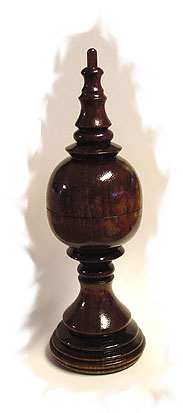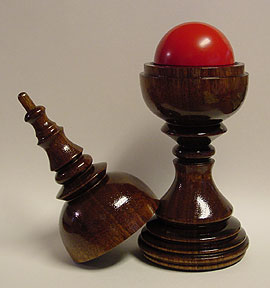 Another pillbox - this time in maple. SOLD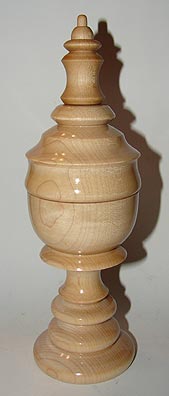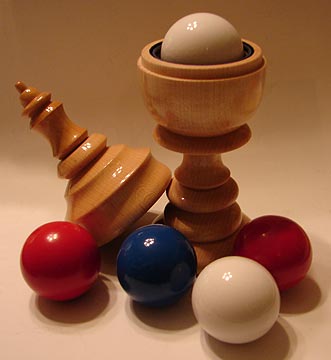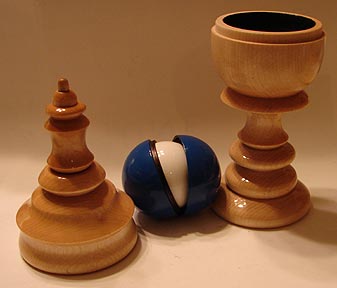 I've posted a few images below of several recent goodies.
---
Yes, I still make pillboxes when I find the time and have the inclination.

One in walnut...
Several of you have asked to see my latest pillboxes. Here are a few images. All pillboxes were custom orders and are sold - so please do not ask to buy these particular pillboxes.
Note: This recently sold on the secondary market for $2,860.
Another in walnut...

And one in maple...

Yes, all pillboxes were custom jobs and are sold.
Additional items will be posted here as I get them completed.
Note: My magical woodturnings are not meant to duplicate nor copy versions of the past. If you want old woodturnings, then seek them out. Each turning will be an original. I am in the process of creating an assortment of turned exotic hardwood Morrison Pillboxes like nothing seen before. All of my Morrison Pillboxes feature original modifications to allow for variations in humidity and to help control the roll of a ball placed on the table top.
Click here to return to the main magic page.