Warning: This page is graphic intensive and will be slow to download.
Welcome to The Magic of James P. Riser web page. Most of the magic apparatus that I produce consists of custom designed and created items. Many of the professional magicians who order custom items do not want them pictured - in order to keep exclusivity. But I do seem to continuously make several rather popular and less expensive items, though. Several of these items are shown below. My goal is to produce quality items which will hold up to the rigors of thousands of performances. All text and images/designs are copyright 2002, 2003, 2004, 2005, 2006, 2007, 2008, 2009, 2010, 2011, 2012, 2013, 2014, 2015, 2016, 2017, 2018 by James P. Riser. Since this home page is open to anyone who dares to visit, I have refrained from explaining how many of the items are used - performing magicians will know.
Latest update ... 12/5/18
---
I have taken a break from making magic to machine an attachment for one of my WW lathes ...see project here.
Magic production will resume soon.
---
Color Changing Knives are back in limited quantities...
There are sets (only sold as sets) and orphans (sold individually).
Set 1 - 3 knives...(This set is SOLD)
Side A Side B
Set 2 - 5 knives...(This set is SOLD)
Side A Side B
Set 3 - 5 knives...
Side A Side B
Set 4 - 5 knives...
Side A Side B
Orphans...
Side A Side B
Knives are $22.50 each plus shipping...you do the math (payable by PayPal to jriser@jamesriser.com)
---
Another new and very exclusive item is in the works. Each one of these will have a custom made crown wheel and pinion as part of the mechanism...a peek...


Click here to see how these crown gears are made.
Click here to see how the pinions are made.
---
Introducing "The Bullet" - an all new type of card punch...
This is the latest in my decades long line of card punches. "The Bullet" is designed to be worn and quickly available when needed. It is supplied with a reel but was also designed to be used with my new "Simplex Holdout" (sold separately). To keep this item exclusive, I will be making only 50 of them. As of 12/5/18 there are only 5 left! Two of these I will be keeping for my own use. The point is extremely fine, easily/quickly adjustable, and readily replaced.

I am currently working on another small run of my new "Bullet Card Punch". If you want one of these, now is the time. As of 12/5/18 there are only 5 left! These are really only for those capable of using delicate punch marks. There has never been another punch like this.
Production on "The Bullet" will begin mid-February 2018 and probably cease December 31, 2018. Price is $110 plus $7.50 USA shipping (foreign shipping will need to be calculated) payable by PayPal to jriser@jamesriser.com
---
Also new for 2018 - "The Simplex Holdout"...
My new "Simplex Holdout" is for the performer willing and able to do some DIY work as the parts supplied must be custom fitted to the performer's body. What I supply is a bag of custom made parts which the performer must install (easily done) to allow creation of a simple to remove from service gravity holdout. The "Simplex Holdout" will duplicate the action of a locker without the expense. The "Simplex Holdout" may be put into service or removed from service as often as the performer desires.
The first two runs of the Simplex Holdout parts are sold out and I have begun another run.
Production on "The Simplex Holdout" will begin mid-February 2018. Price is $85 plus $7.50 USA shipping (foreign shipping will need to be calculated) payable by PayPal to jriser@jamesriser.com
The New Reels Have Been Started...
Machining has begun now that prototype testing has been completed...
If you think that you want one of these unique reels, start saving up your money as they will be $985 each.
Parts have been cut for 12 of these new style of cage reel. All 12 should be completed by the end of December 2018 (but will most likely run into January 2019 due to other work needing attention). The Lindhorst style of cage was designed and made to be vanished from the right hand. This new reel is designed and made for a performer using the cage correctly.


These metals have been cut...aluminum and brass...





---
Riser Hooked Coin
Back by popular demand...now in three styles...

Quarter...$10 ppd
Half Dollar...$11 ppd or Gold Sacagawea Dollar...$15 ppd
Click here for some Hooked Coin info.
---

Riser Coin Punch ... $10 postpaid
Folks have been quietly asking about this item.
Click here for additional info.
---
---
It has been long time since my last update!
I have been busy making a number of custom items, and working on some prototypes. As I move into "full" retirement, less and less non one-of-a-kind magic will be coming out of my workshop. I will be specializing in custom items for a few pro friends. This will keep me as busy as I want to be. As things get completed, I will make a posting here on my web site.
In addition, will be several more epublications - one on making a Lindhorst style cage. I am also working several nonmagic projects.
Until then, here is a little freebee for financially challenged DIY magicians:
RiserEconoStix
---
---
A New Reel is Coming
Sometime this year ... my special reel for use with a vanishing birdcage. This reel is designed to allow the performer to remove the jacket after a cage vanish. It is not a take-up reel nor is it worn where a take-up reel is. It will work with any make and commonly found size of vanishing cage. The reel will come with my special cage clip and all necessary parts. Production will be limited to only 10 units. Price will be given when the items become available.
---
Please visit my new Used Magic Web Page ... new items added now and then.
---
---
No cup sets are availlable...nor are any planned for the future.
For those seeking a reference to several cups sets that I designed and made, click here. No one else has been authorized to make these!
---
Please visit my new Used Magic Web Page ... new items added now and then.
---
For the Do-It-Yourself Magicians!
As promised, I am beginning to release a series of "how to" e-publications. All are in pdf so that they may be read on most smart phones, tablets, readers, and computers. All are payable by PayPal to jriser@jamesriser.com
When you make payment, be certain to indicate which e-publication you desire. After payment has been received, you will be emailed a link for downloading the file(s).
I shall begin with a quick and easy inexpensive project requiring only a precision screw driver set and a Dremel tool.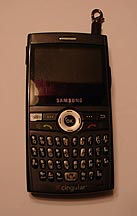 1. Making a cell phone ring flight .....$5
---
The second e-publication is much more involved. A lathe, precision measuring tools, and skill to use them will be required.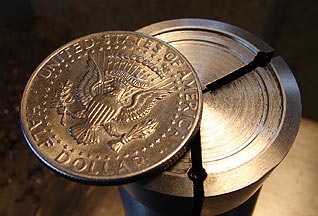 2. Machining a Scotch and Soda Set .....$5
---
The third e-publication explains how to make and use a dice switching clip for jacket or holdout. Tin snips, jewelers saw, a drill, and fine files are all that are needed for this project.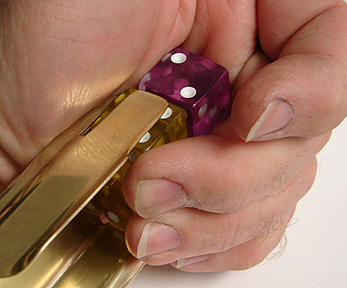 3. Making and Using a Dice Switch Clip ....$5
---
The fourth e-publication is a rather advanced project for making a large locking reel suitable for a vanishing lampshade or birdcage. You will require a lathe, milling machine, soldering equipment, etc. This reel design may be scaled down for making smaller locking reels if desired.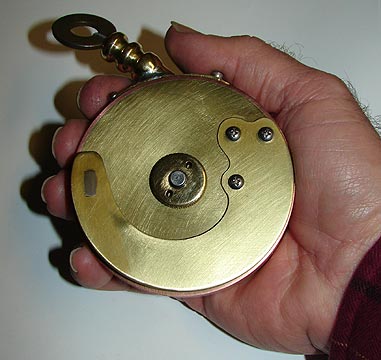 4. Making a large locking reel .... $5
---
This project is very suitable for even a small lathe like a Taig or Sherline.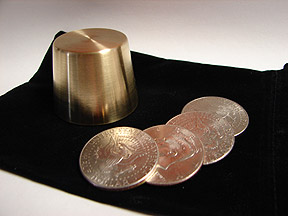 5. Making a Coin Cup .... $5
---
This is a nice project for the woodturner.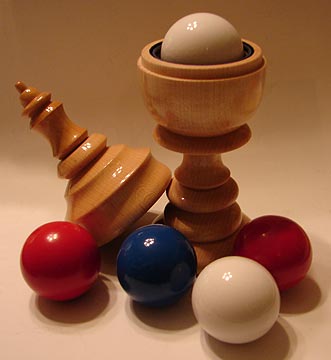 6. Making a Morrison Pillbox .... $5
---
This e-publication is for those wanting to make special thin metal ball shells for unique apparatus. Shown are how to make metal billiard ball shells and the difficult to find golf ball shells.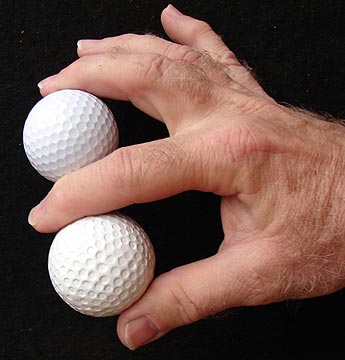 7. Making Metal Ball Shells .... $5
---
8. Epublication .. "How to Make an Inexpensive Floating Skull"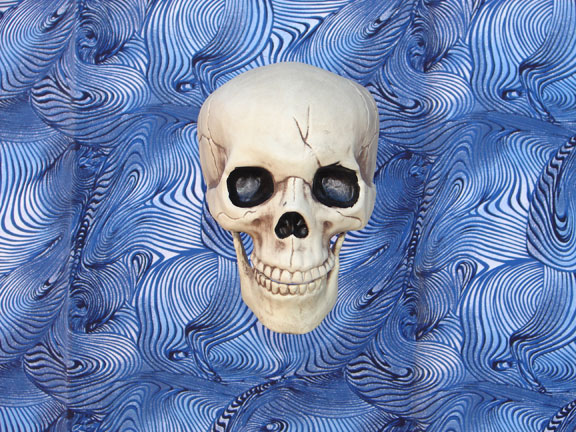 This is the instruction set for converting a new readily available skull into a full stage floating skull.
You are getting conversion instructions only. Routines and hook-ups are in many books, CD's, and DVD's.
$5 payable by PayPal to jriser@jamesriser.com
---
More to come soon.
Upcoming e-publications will include making a take-up reel, making a new style of Vanishing Bird Cage, a new type of ball vase, rising cards, a new type of billiard ball stand, new work on the ball and tube, a drawer box, a razor blade stand, a coin shooter, a new type of Kuma Tube, a center control Cube A Libre, a timer for creating a few seconds delay, a simplex card punch, making a Kepplinger holdout, a gravity holdout, making dye tubes, etc. Lots of fun if there is enough interest to make it worthwhile.
Here is a freebee .... Making an Inexpensive Card Trimmer
Here is a freebee .... Making Typewriter style Key Inlays
Here is a freebee .... A way to soften coins
Here is a freebee .... Making a Coin Stack
Here is a freebee .... Making a Folding Coin
Here is a freebee ....Things to do with a rubber walnut
Here is a freebee .... Making an Inexpensive Leather Cylinder
---
Wand Production Paused while I work on other projects ...
---
A reminder ... I have halted all cup production until further notice. I am too busy with other projects. No one is authorized to make my cup designs!
---
Here is some cup eye candy (Ed Keener's Cups) for you to enjoy.
---
A1 has begun! Click here for progress.
---
Limited wand production might resume sometime this year.
---
The matching ebony/nickel silver wands below were custom made for an upcoming movie. Comsider them eye candy.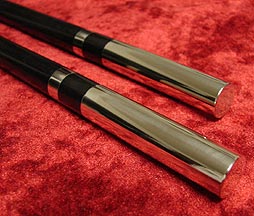 Several duplicates were made for a number of performers/collectors around the world.
For those of you waiting for your wand ... the last three have shipped out. See yours here: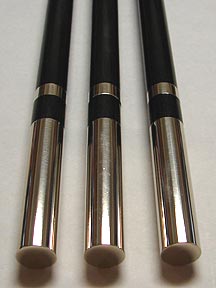 The wand below will be the last wand until I get in the "wand mood" again.
Here it is ...



This wand is hand turned and polished ebony and nickel silver.
The latest run of wands is sold out.
Note: I do not have time to send out tons of emails as such new items come and go. The best way to know what is happening here is to check my web site now and then. Those who do check, avoid disappointment.
---
Some eye candy ...
Click here to see a historical collection of card trimmers.
---
Here is a blast to the past for those interested:
Instructions for Odd Card
Instructions for The Solid Cup as marketed from 1973-1988 (Later copies included Sun Magic overleaf)
Magic Catalog c. 1973-1988 (dot matrix printer)
Magic Catalog c. 1973 Items - updated catalog from 1988 (new DeskJet printer - same items)
Instructions for The Perfect Bill Change
Enjoy.
---
Click here to see the Vernon Cups.
---
Eye Candy ...
What may well be the thickest (.093") spun set of cups next the smallest cup set. Neither of these belong to the Houston fool.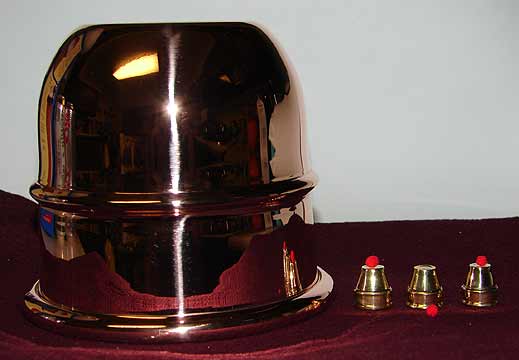 This is thick copper!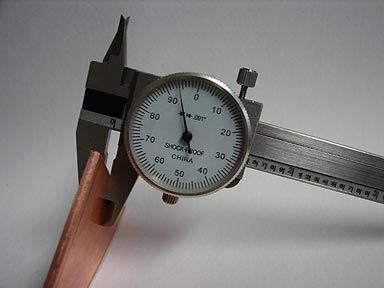 These cups are busy earning their keep not wasting away on a shelf somewhere. This is why they were made and as it should be.
---
Some eye candy ... a one-of-a-kind ...
The Rabbit and Hat Magician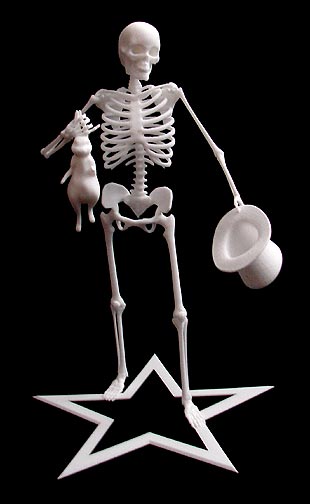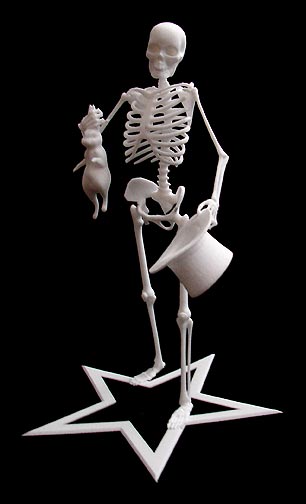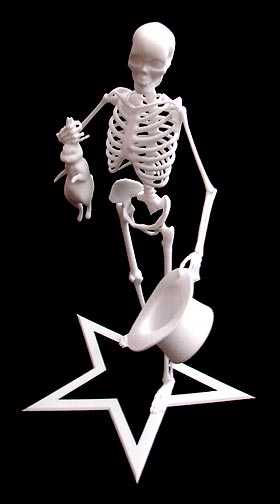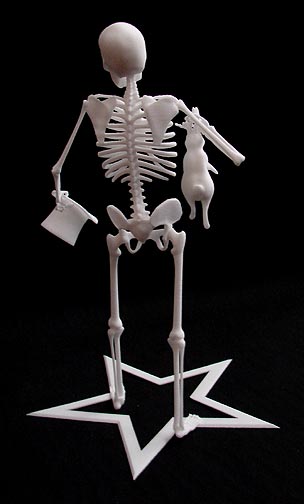 ---
Available now ... new colors ...

Chopped Dice Pairs
This dice set was created at the request of several magicians wanting to get a way from the usual chop cup style crochet covered balls.
With the dice it is possible to throw the gimmicked die into the cup and have it "grab" or not. The die may be shaken within the cup to allow spectators to hear that it is really there and to position it for the "grab". These are large custom made 19 mm. dice (just under 3/4") and easily seen.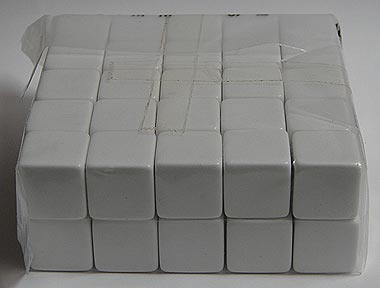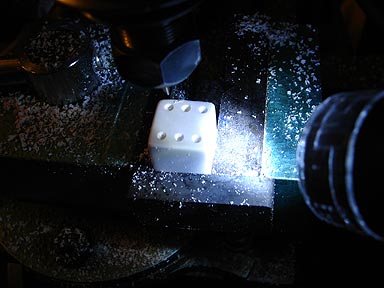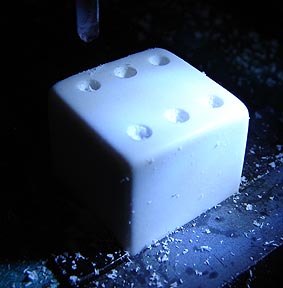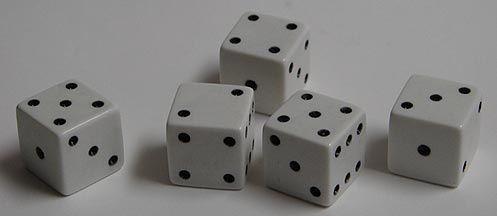 These are sold by the pair (one chopped and one plain die). These are the same dice provided with the Riser Combo Dice Cup.
If you want a gambling theme for your magic, these might be just what you need.
Available to USA customers only, payment by check or money order ... intro priced at $30 postpaid/pair.
Email me for my address for mailing payment.
---
Eye Candy
Riser Midi-Traditional Cups progression ...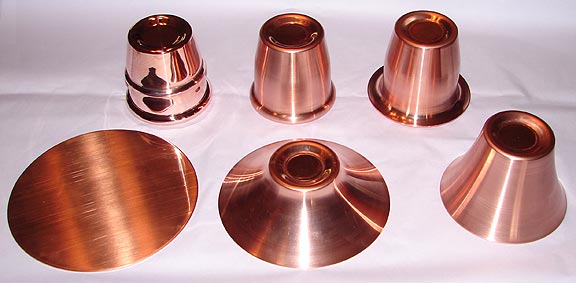 Another view ...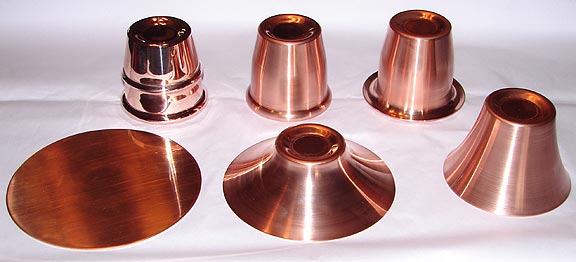 ---
I have received a few emails asking about my bottomless glass for the Walnut effect. It has been discontinued for a spell; but for those interested, here it is.
Note: Because I share my ideas does not give readers a license to copy, steal, nor market my items.
---
The new style card punch is now available ... scroll down to see it.
---
Note: All regular cup spinning has been suspended until further notice.
Cups possibly being made again ...
Riser Spider Cup
The Riser "D" Cell Cups
The Riser "D" Cup
A New Style Traditional Cup
All other cups are either discontinued or on hold awaiting time to make them.
I might possibly sell off my cup spinning business and spinning chucks to devote energies to more interesting projects. No decision on this yet.
---
As I have indicated many times, "Because something is available today, does not mean that it will be available forever".
---
Most of my new items may not be generally offered for sale here on my web site. More than likely I'll be offering them to select clients on a first refusal basis. I will be basing my client list on factors that might surprise many so called magicians. Since I am the designer/maker, I feel free to let my creations out to whomever I select. If this is unacceptable to you, you most likely are not on my client list as a result of being eliminated due to one or more selection considerations. Such is life...
---
Note: Please email me before placing an order as I may not have the time to make your item.
---
Discontinued but left up for reference.
---
More eye candy...
---

Click here to go to my Magical Woodturnings Page.



---

Gambling Items

The Sacagawea Shiner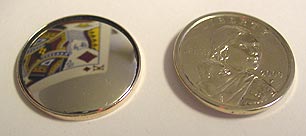 This shiner is made from a circulated Sacagawea coin so that it will "age" to match other Sacagawea dollars you might be using. With this item, a magician or mentalist may glimpse cards as they are being dealt or shown. Shown here are the front and back sides of this shiner.
Note: This is sold for entertainment or lecture/demo use only. Using one in a real card game could be hazardous to your health. I repeat, these are not for use in cheating at cards. Most people using these are stage and platform magicians and mentalists.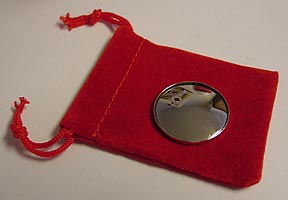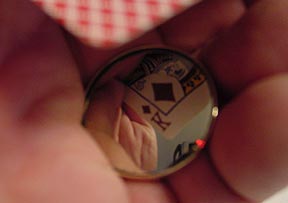 Announcing a new version of this item. The Sacagawea coin has been hollowed into a shell and a precision convex mirror of polished pure nickel silver has been inserted into this shell. The Sacagawea Shiner comes with a small cloth drawstring bag for protection.
$50 each. Sold out for now.

Additional items will be posted here as they become available.



Click here to go to my Magical Woodturnings Page.
Click here to return to the James P. Riser Home Page.
Click here to send mail to James P. Riser